Police Psychology | The TRIAD:  A Department's Own Superheroes
Nancy K. Bohl-Penrod, Ph.D., San Bernardino, Calif.
Peer support has been around for ages.  In the 1950's and 1960's peer support programs began to emerge at the Chicago Police department, the Boston Police department and NYPD.  They called those willing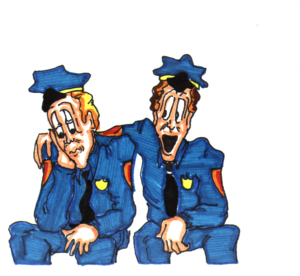 to be in the program "peer counselors".   The programs were originally created, because of the increase in alcohol abuse and the disciplines surrounding the abuse.  Their programs followed the Alcoholics Anonymous 12-step program.  The peer counselors (supporters) were in "recovery" and it was assumed the best fit to help others with their alcohol problems.
In the 1980's, formalized, official, peer support   programs were developed by LAPD, the San Bernardino Sheriff's department and the Long Beach police department.   It was at this time they changed their names from "counselors to supporters" because it appeared misleading. They were originally set up to assist existing mental health services.  Those designated peer supporters would help recognize those officers who were having personal and emotional problems. Similar to an "early detection" program.  These departments and their mental health providers, quickly realized the advantages to having trained peer support officers be immediately available.
Peer supporters became a resource for those that needed to talk "on the job".  During that time, Police officers were reluctant to reach out to their mental health providers, because they considered them "outsiders". There was a fear of "losing one's job" if you went to therapy, and fear you may be ridiculed by your co-workers if they found out.  This attitude only increased the need for peer support programs.  Since that time, mental health services focused on "public safety" have been widely accepted.  The agencies who believe in offering help to their personnel now have a formalized peer support program that works in tandem with their mental health providers.
In the 1990's, Police associations (unions) began to provide monies to have those members chosen to be peer supporters get the necessary training required to be in the program.  There was an increase in suicides, so they looked at decreasing their rates by having a peer support act as a "prevention and intervention" resource.  In addition, over the years, peer support has been added to the "trauma (critical incident) intervention arena".
Peer support, mental health services and chaplains are all resources that have proven to be extremely valuable for the wellness of law enforcement organizations.  We call it the "helping triad."  One group does not act alone, they work together as a team for the health and benefit of those they are serving.  Mental health professionals possess the diagnostic skills to help recognize issues more serious than may be observed.  They are also granted legal privileged communication. (only a few states grant this to peer supporters) The chaplains have an on-going relationship with department personnel and can help observe their behavior and the peer supporters understand the day-to-day stresses they are experiencing.
The mission of peer support is to get those having difficulty to open up about their problems, so the peer supporter can get them into the appropriate resources.  Peer supporters know their boundaries.  They are taught to, LISTEN, ASSESS, REFER and most importantly FOLLOW-UP.  They are not their clinicians and should not act like one.  Peer support programs break down the barriers that may exist with some officers.  They build the trust between the mental health providers, chaplains and the officers.  They are also the first line of defense.  Many officers will want to talk to a peer before they call and make an appointment with a clinician or seek out assistance with a chaplain.  A well trained peer can make that transition easier for them, and make it one of their goals of their helping process.
Peer support programs are also great to have, because the help needed can be provided right away in the work environment.  Peer supporters can defuse the situation before it gets worse.  Having a peer support program can reduce the emotional impact of a critical incident, because peer support can be there in a timely manner, which may lead to a faster recovery. Providing a defusing will help pave the way for the mental health professional to begin their critical incident management services.
Peer support can also assist the mental health clinician, who facilitates the group debriefings, crisis management debriefings and the RITS (rest, information, transition, services). Peer supporters can also provide practical assistance, such as, making phone calls for the impacted officer, get them something to eat, drink and if necessary transport the officer's family.  Law Enforcement mental health providers welcome the opportunity to work side by side with well-run peer support and chaplain programs.   We believe in all three groups and the benefits law enforcement personnel receive from them.
When mental health professionals, chaplains and peer supporters synchronize their efforts it is a sign of unity.  It shows all department personnel, "wellness resources under one banner". It doesn't get any better than that.
An organization is beginning which caters to peer supporters and their family members.  After all, they take on a lot of extra "duties of the heart", sometimes on a daily basis. We are having a kick-off conference as the organization that will continue to support, legitimize and increase the belief that peer support teams do provide a greater assistance to departments.  All readers of this newsletter are invited to attend, even if you are just curious about peer support and what it means, or maybe you are in the process of developing your team.   Sign up now, go to http://www.pspsa.org …..watch the video, read the line-up of subjects and come join us in beautiful San Diego, California.
Be safe!
Site Editor:  Gary S. Aumiller, Ph.D. ABPP
Please share this article from down below.
Please join the email list on the top of the sidebar and you can get these sent to your email.
Come back regularly for more updated articles on police psychology