Police Psychology | The TRIAD:  A Department's Own Superheroes
Nancy K. Bohl-Penrod, Ph.D., San Bernardino, Calif.
Peer support has been around for ages.  In the 1950's and 1960's peer support programs began to emerge at the Chicago Police department, the Boston Police department and NYPD.  They called those willing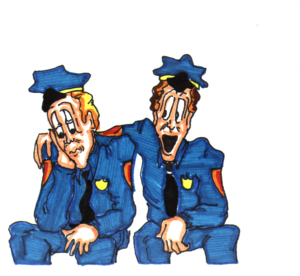 to be in the program "peer counselors".   The programs were originally created, because of the increase in alcohol abuse and the disciplines surrounding the abuse.  Their programs followed the Alcoholics Anonymous 12-step program.  The peer counselors (supporters) were in "recovery" and it was assumed the best fit to help others with their alcohol problems.
In the 1980's, formalized, official, peer support   programs were developed by LAPD, the San Bernardino Sheriff's department and the Long Beach police department.   It was at this time they changed their names from "counselors to supporters" because it appeared misleading. They were originally set up to assist existing mental health services.  Those designated peer supporters would help recognize those officers who were having personal and emotional problems. Similar to an "early detection" program.  These departments and their mental health providers, quickly realized the advantages to having trained peer support officers be immediately available. (more…)